The Original Chesterfield Guarantee
Chesterfield.com is a trustworthy and honest Chesterfield provider that has its guarantee system in order for thier customers. Chesterfield.com is also the proud proprietor of warranties in several European countries, such as "Home Store" (Thuiswinkel.org), NAVEM, Trusted Shops, and Ecommerce Europe. By meeting the strict requirements of these associations, you are assured that the warranty you receive on your entire furniture is authentic.
On this page, you can read exactly what points out we are in terms of reliability.
This is your guarantee of a secure purchase at Chesterfield.com. In addition to the standard guarantees offered by these organizations, Chesterfield.com offers you as extra:
Standard 12 years Factory Warranty on the frame and 5 years on leather.
Platinum Plus 12 Year Warranty on the frame
The construction and frame of a piece of furniture is the foundation and this should of course be solid. On this component, Chesterfield.com provides standard warranty for 12 years; after 5 years only the material and shipping costs will be borne by the customer.
Our chesterfield furniture is made from only the best materials. Our construction and framework consists of solid tropical hardwood or beech wood, this material is one of the strongest wood types in the world.
In addition to the use of top quality material, craftsmanship also plays an important role. To ensure this, the furniture is manufactured only by trained professionals specializing in this subject. In addition, all our products will be thoroughly tested before completion. We are only pleased if you are satisfied and therefore convincingly give you 12 years warranty on the frame and construction.
The Original Chesterfield Leather Care 5 years warranty on leather!
The leather and cushion filling are also fully covered by the warranty. This expires on the date of purchase after a term of 5 years. Here too, only the best quality leather is used. By default, 100% cow leather is available in any color. Chesterfield.com has its own factory and its own tannery workshop with trained professionals specializing in this field.
The Leather Guarantee from Chesterfield.com, which we call Leather Care, provides a comprehensive warranty against all spots and calamities. Upon purchase, you will receive our Leather Care Bio cream for one year maintenance free of charge.
After the first year, you must order Bio-cream (available from us) annually to make use of the above-mentioned warranty terms.
Soft leather furniture need not be treated with Bio cream to qualify for the warranty. The warranty period for fabric (cloth-like) materials is 2 years.
The above-mentioned warranty on frame and leather, soft leather and fabric applies only to furniture used for consumer's private use. Business use (hospitality, shops, waiting rooms, exit centers, etc.) is excluded from this warranty.
Under defects on the lining, we mean defects that are not considered to be a natural feature. Leather is a natural product and can show scars on the skin, which is also a beautiful feature of a 100% leather!
In addition, the furniture must always be used and maintained in a normal manner.
This is your guarantee of a secure purchase at Chesterfield.com.
Chesterfield.com Standard 12 years Factory Warranty on the frame and 5 years on the Leather / soft leather and 2 years on fabric.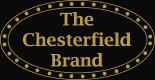 Our certifications